UDA Technologies debuted the Lunch & Learn with Holly and Ian webinar series during the first quarter of 2019, aiming to provide professional insight & expert guidance to support the success of UDA's valued customers. The first 5 Lunch & Learn sessions were met with great success, leading UDA to announce 3 new Lunch & Learn sessions planned for the coming weeks. While the initial Lunch & Learn workshops focused on ConstructionOnline, the newly announced sessions will shift the series focus to ConstructionSuite 10.
UDA Technologies encourages companies to gather their teams together for each Lunch & Learn workshop, as these sessions provide the ideal opportunity to get all users working with UDA's tools cohesively. Parties interested in attending can access the updated Schedule of Events here or register for individual sessions below:
Senior Product Specialists, Holly Gipson & Ian Schaefer, lead the bi-weekly workshops, and have been overwhelmed by the popularity & client response to the workshop-style format: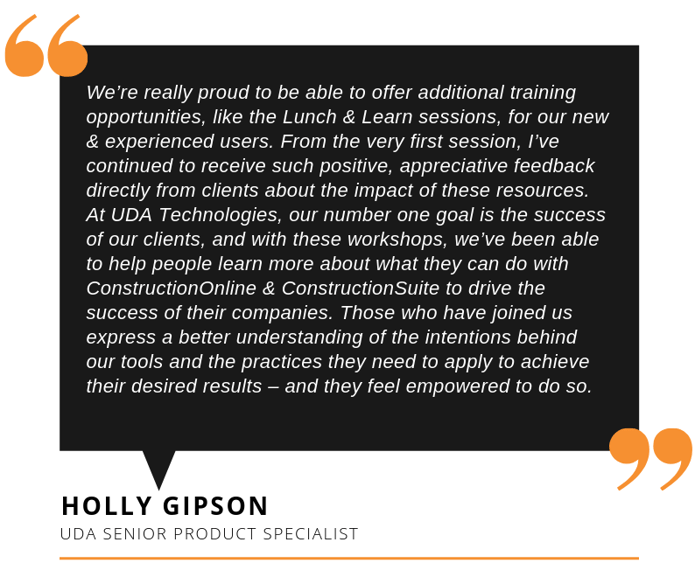 All Lunch & Learn with Holly and Ian webinars are recorded and made available for on-demand viewing on UDA's website here.
UDA Technologies provides desktop, cloud, and mobile construction management solutions for more than 550,000 industry professionals in over 75 countries worldwide. With an acclaimed dedication to the success of their customers, UDA proudly provides unlimited 5-star support to users of ConstructionSuite, ConstructionOnline, & ConstructionOnline Mobile, and continues to be one of the fastest growing software providers for construction professionals in all industries, including residential, commercial, specialty, and industrial construction.