UDA Technologies announced this week the release of digital signatures on Punch Lists in ConstructionOnline™ 2019. Digital signatures are the latest feature to enhance already-powerful Punch List Management tools in ConstructionOnline™, joining other recent features like Punch List PhotoStream Views and aggregate Punch List Reports.
ConstructionOnline's cloud-based Punch List Management was designed to empower teams to quickly create, document, photograph, and assign Punch Lists Items from the office or the jobsite, and with innovative new features like digital signatures for Punch Lists, ConstructionOnline™ is setting a new industry standard for exceptional quality control in construction project management.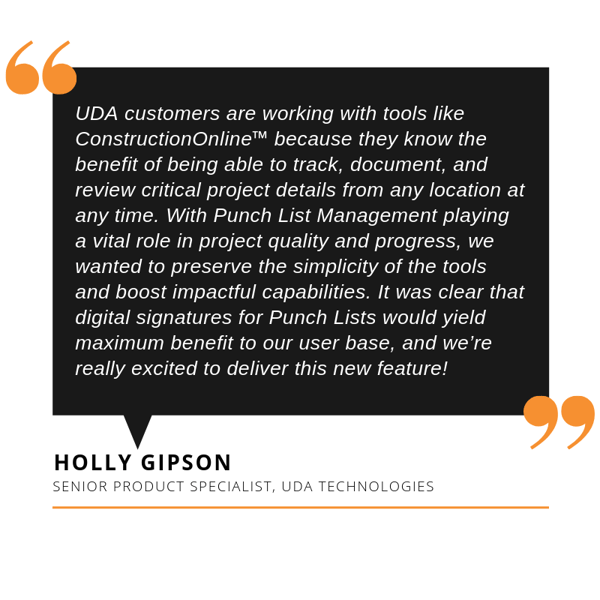 Company Employees will find options to add signatures on every Punch List in ConstructionOnline™. Time & Date Stamps are recorded for each signature, improving project documentation and emphasizing team accountability.
Signatures may be entered manually at each signing, or Company Employees can save a signature in their Profile Settings to serve as the default on the account. Default signatures can be quickly & directly applied to any Punch List in ConstructionOnline™ by using the "Import Signature" option at the time of signing. As signatures are collected on Punch Lists, they can also be easily included on Punch List Reports.
Digital Signatures are currently available for Change Orders & Client Selections and can be included on other Reports & Documents through ConstructionOnline's built-in Document Editor.